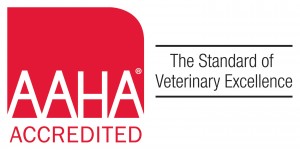 Welcome to Bow Bottom Veterinary Hospital and Pet Day Care!
We are accredited by the prestigious American Animal Hospital Association (AAHA), 1 of only 8 practices in all of Calgary. We are committed to helping your dogs and cats with preventative health care.
Our wellness consultations are extended in length to ensure your questions are addressed and we are not rushed. We develop a custom wellness plan and vaccination program for your pet, based on your pet's lifestyle. Other services include surgery, general and advanced dentistry, behavior consultations, and nutrition counselling. We are equipped for diagnostic testing: we have digital radiology (dental and general), an ultrasound machine,  an endoscopic unit and an in-clinic laboratory for blood, urine and fecal analysis. Dr. Schell is trained in both Western and Traditional Chinese Medicine. We offer Chinese herb treatments, acupuncture and chiropractic treatments.
Our goal every day is to help you give your animal family members longer, happier, and healthier lives. New patients are always welcome! We would love to meet you and your pet, and give you a tour.
Our Patients: