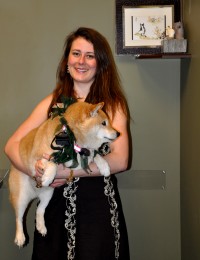 Education: Western College of Veterinary Medicine, University of Saskatchewan
Dr. Julie Schell, who is the sole owner of Bow Bottom Veterinary Hospital, graduated from the Western College of Veterinary Medicine at the University of Saskatchewan. She was born and raised in Calgary and completed a Bachelor of Science in Honours Zoology at the University of Calgary. Veterinary medicine is her passion. Dr. Schell enjoys writing animal health columns for pet magazines and has appeared on A-Channel's Big Breakfast and CityTV's Breakfast TV and Global Calgary to discuss animal health. Dr. Schell was awarded the Alberta Veterinary Medical Association Young Vet of the Year in 2006. Dr. Schell thoroughly enjoys all aspects of veterinary medicine and has special interests in surgery, diagnostic imaging, acupuncture, chiropractic, oncology, nutrition, ophthalmology, herbal medicine, essential oil therapy and dentistry. She is able to use a combination of Conventional/Western as well as Eastern medicine to help her patients. She is certified in Veterinary Acupuncture and Veterinary Chinese Herbal Medicine through the International Veterinary Acupuncture Society. She is also certified in animal chiropractic by the College of Animal Chiropractors and the Animal Chiropractic Certification Commission of the American Veterinary Chiropractic Association.
Four Shiba Inus (all relatives!), 2 Siamese brothers, a Border Terrier, and a Quaker Parrot comprise her pet family.