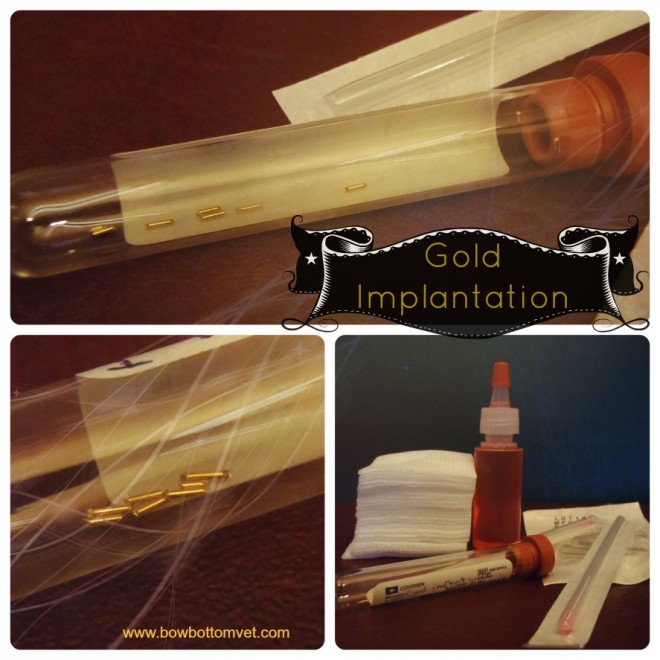 Implanting Gold into Acupuncture Points
Dr Julie Schell  BSc(Hons), DVM, CVA, CVCHM, CVC
Bow Bottom Veterinary Hospital
Acupuncture treatment can greatly help decrease and eliminate disease.   In addition to inserting needles temporarily gold wire, usually only a few millimeters long, can be implanted permanently into the point.   This provides the pet with constant stimulation of that point.  Since the gold implant is permanent, it is important to only implant gold when treating chronic diseases.  These include devastating and debilitating diseases such as idiopathic epilepsy, hip dysplasia, arthritis, and chronic pain.
Only the highest quality and purity of gold that can be found is used.  This is usually in the form of 24 karat gold wire, very thin- often only 22 gauge in size, which is less than 1mm in diameter.
To insert the gold, the skin near the acupuncture area is shaved and surgically prepared/washed. The skin is then given a local block for pain control and a 19 gauge needle is used to direct the gold into the skin which is then pushed deeper using an acupuncture needle as a stylet.   The pet is fully awake during the procedure because it is very fast and mostly pain-free.
Gold is used because it is a very bio-actively inert substance, and thus it will not break down or absorb into the cells or bloodstream of the pet.  The gold is left inside the acupuncture point permanently.  It can be surgically removed, but it is challenging to do so because it is so small and difficult to locate once inserted.  However, the chance of negative side effects are extremely rare.
For more information contact us at www.bowbottomvet.com
References:
Schoen, Allen;  Veterinary Acupuncture: Ancient Art to Modern Medicine 2nd Edition 2001;  Mosby;   303-5
Thoresen, Are;  Holistic Veterinary Medicine;  Are Thoresen Veterinaerservice; 2012;  458-9