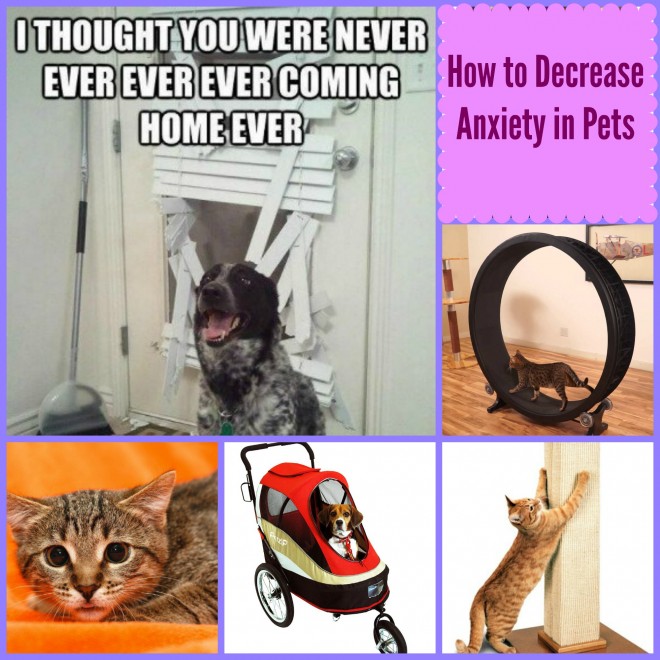 HOW TO DECREASE ANXIETY IN PETS


Dr Julie Schell  BSc(Hons), DVM, CVA, CVCHM, CVC


www.bowbottomvet.com
 
Anxiety in pets affects them just as much as it affects us humans and pet owners who love them.  We are so bonded to our pets that often they sense our own anxiety and start to manifest signs of it.  A common scenario is when people are packing up their belongings and suitcases to move to a new home or to go on a holiday.  The cats of the household will often detect anxiety and the hustle and bustle and may start over-grooming their coat, or urinating inside the suitcases.
Another common issue is when dogs are apart from their beloved favorite person.  They develop a sense of grief and anxiety that can lead to many health problems if not prevented or treated.
If a new baby enters the home, some dogs and cats are overjoyed and excited for the new companionship, however others may become frightened of the new noises.   They may also start constantly licking a patch of skin on their foreleg to self soothe, similar to when a child sucks their thumb.
It is best to prepare our pets as best as possible to be able to handle stress and anxiety, and to help prevent the anxiety in the first place.
One of the best ways to prevent anxiety is to increase exercise, attention and play in pets.   Dogs are intelligent, curious animals and need to be walked and also given one on one play time and training exercise for stimulation.   Check out this helpful protocol on relaxation:  https://www.bowbottomvet.com/2013/07/05/protocol-for-relaxation/
Bringing your dog to group training and socialization classes is exciting to them- not only do they get to go for a car ride, but they get to meet new people and other dogs. Dogs may also enjoy hobbies such as agility and dock diving.  Calgary has a large number of dog clubs that offer these types of activities. It is best to remember that dogs are social animals, like us!
I love offering two long, tall scratching posts for cats.   "The Cat Man" has excellent tall, custom cat scratching posts:  http://catmancatfurniture.com/
Check out the designs for ideas for you and your family to make or to order in.  Definitely add some sisal rope to the bottom for added interest/entertainment:
My own cat loves this Tall Pagoda style:  http://catmancatfurniture.com/pagodas.html
You can order them in from his website, or go to The Cat House to purchase them.
http://www.thecathouseinc.com/
This is an excellent resource on maintaining the joy and happiness and decreasing stress in indoor cats:
http://indoorpet.osu.edu/cats/felinelifestressors/       and:
http://www.icatcare.org/sites/default/files/PDF/practical-tips-for-owners-web.pdf     and:
http://www.icatcare.org/news/what-cats-need-0
And these are great veterinary links for cat health and happiness improvement:
http://indoorpet.osu.edu/cats/resources/
Some cats love strollers- your cat may love these safe outdoor excursions, in addition to walking with a harness and leash.  You won't know until you try!  This is the website for pet strollers:   www.petstrollerworld.com
Catnip and growing cat salad is also an excellent way to decrease anxiety for cats and help improve their exercise. When giving a cat catnip, they often will roll and stretch, which improves blood flow and comfort to the body, similar to doing Yoga.  You can even grow your own catnip and cat grass (oat seed) in pots indoors, year round.  Some dogs even love eating oat grass and catnip.
I think it is wonderful to give cats and small dogs outdoor adventures in warmer weather in a stroller, which is safe and controlled, yet still fun for many cats.  Older dogs may love going for walks, but get tired half way through. Thus, they can then be placed in the stroller when they are too tired to walk, for a rest.  Once rested for a few blocks, they can then be let out again to walk again.
Providing safe toys for cats and dogs is helpful- you can even rotate them so the pet does not become bored.  Puzzles where food and treats can be hidden will also provide hours of entertainment and will stimulate a pet's natural hunting and tracking instinct which improve their well being.   Ask your veterinarian what the best toys and puzzles are.   You can even hide small amounts of the pet's meal in 4 to 5 different areas of the home so they have to seek and find it.  Always have fresh water in each room, however.
Bringing your pet to daycare once or twice, or even more often each week is helpful.  Contact your veterinarian to get ideas on good daycare centres.  We offer daycare and overnight care here at Bow Bottom Veterinary Hospital. Come by for a tour of our facility! Daycare provides a great mid-week break to both you and your pet.
I love the idea of building a safe, escape-proof outdoor cat or dog enclosure in your back yard.  Safe so they can't escape and so that other animals can't get into their yard such as coyotes or other cats or dogs.  It is important to not let your pet outside all alone too long, as they will become lonely or mischievous, or start barking or doing destructive behaviour like digging or chewing on harmful objects like baseboards and garden hoses.
Also, check this amazing indoor exercise option out: https://www.youtube.com/watch?v=35_V3ssAf9U  and
In addition to play and exercise, healthy nutrition is important part of decreasing anxiety.  If a pet has the proper nutrients and is not over fed or under fed, they will feel better and stay healthier.
Unfortunately obesity in pets is very common.  Excess fat tissue is very stressful on the body including the joints and heart and total metabolism.  It can also lead to Diabetes Mellitus.  If a pet is fed too much food, even too much healthy food, the body has to store all the extra calories that it does not need in the form of fat.  Fat is also an inflammatory tissue- it is constantly growing breaking down and as it does so, it releases pro-inflammatory chemicals that a pet must deal with.   Too much fat deposition is overwhelming to the body and the blood supply may not be sufficient to nourish it, thus, oxygen deprivation occurs. This results in the production of inflammatory mediators that can have deleterious effects on other organs of the body.  Plus, especially in cats, if the cat is overweight, it can have problems getting to the litter box, and thus holding onto their urine.  This can cause inflammation of the bladder that may result in crystal formation and lots of pain and anxiety.  That is why some cats over groom the fur on their belly and lower body, resulting in patches of baldness.
Fat can also alter the insulin receptor sites in the body, causing the pancreas to over work and release high amounts of insulin, eventually resulting in burn out.  Insulin-dependent diabetes can occur.
If your pet is overweight, definitely consult with your veterinarian on developing a diet plan and monitoring program.  We as veterinarians and veterinary health care teams love to help pet's reach and maintain optimal body conditions.
In addition to exercise, diet, and playtime, another way to decrease anxiety is with essential oil therapy, both topically or through diffusion into the air like aromatherapy.   I prescribe specific essential oils unique to each pet's needs often as part of an anxiety prevention and treatment program.  It is important to only use natural oils, and they must be diluted before application t he pet.  Check this out:  https://www.bowbottomvet.com/2012/10/15/essential-oil-therapy/
And:
https://www.bowbottomvet.com/2012/10/16/essential-oil-raindrop-treatment/
Also, Feliway and Adaptil are helpful pheromones that only a cat or dog can react to that helps naturally decrease stress.  There are also several oral herb-based compounds that your veterinarian can recommend for your pet.
Playing the radio and/or television while you are away helps calm many pets. The extra background noise helps make them feel like someone is home.
Acupuncture, chiropractic and Traditional Chinese Veterinary Medical herb formulas are also helpful.   I am trained to help diagnose and treat with these alternative, effective modalities.
At Bow Bottom, we also offer special behaviour consultations to help your dog or cat with their specific needs. For more information, contact us at www.bowbottomvet.com or phone us at 403-278-1984.