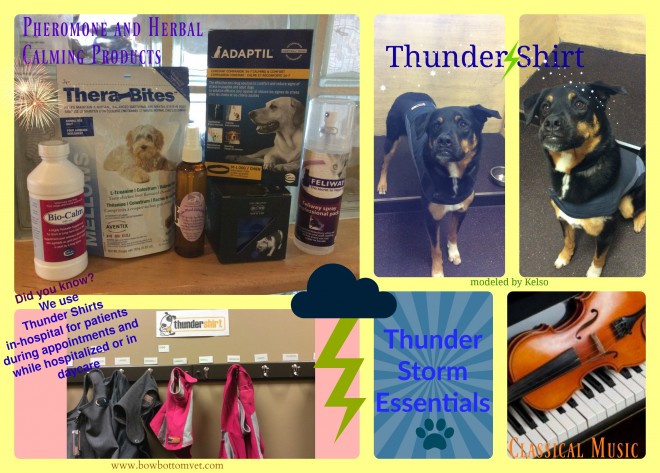 HOW TO COMFORT YOUR PET DURING THUNDER STORMS
Dr Julie Schell  BSc(Hons), DVM, CVA, CVCHM, CVC
www.bowbottomvet.com
Remember- desensitizing your pet towards frightening experiences is a great way to prevent fear before they could even start.   Even before the storm brews, start instituting actions to calm your pet including talking to them, playing with them, brushing them, giving special chew toys and puzzles. Try to help your pet associate the sound of thunderstorms with positive things like treats, toys, and massage.  Try using these Relaxation Protocols: https://www.bowbottomvet.com/2013/07/05/protocol-for-relaxation/
These are excellent products and exercises to help your pet live more comfortably during the fearful times of storm season:
 Thunder Shirt- these are special hugging wraps that provide a sense of balance and grounding.  Immediate results are often seen as soon as the shirt is applied. Check out: http://www.thundershirt.com/
Essential Oil Therapy- check out https://www.bowbottomvet.com/2012/10/15/essential-oil-therapy/
Relaxing Pheromone therapy in the form of diffuser, sprays or collars:  Adaptil for dogs:  http://www.adaptil.com/ca_en/#redirected  and Feliway for cats:  http://www.feliway.com/ca_en/
TheraBite Mellows Chews- herbal chews that contain relaxing valerian, colostrums and l-theonine:  https://www.drugs.com/vet/thera-bites-mellows-chewable-tablets-for-dogs-can.html
Bio Calm an herbal liquid that both cats and dogs enjoy eating.   It contains colostrums and l-theonine, which are products in milk that calms anxiety.
Jia Wei Xiao Yao San- a Traditional Chinese herb formula that Dr Schell can prescribe for your pet, or another customized TCVM (Traditional Chinese Veterinary Medical) formula.
Massage provides excellent relaxation for pets and fun for owners:
Dog massage:
https://www.youtube.com/watch?v=KMHIFBDTb9c
and
Cat massage:    https://www.youtube.com/watch?v=QaD7j7XtSMs
 Play relaxing music that your pet enjoys. This helps drown out the loud thunder noise.
Give your pet a job to distract them, such as working with a pet puzzle and treat ball:  https://www.youtube.com/watch?v=bag2zhvKaA8 and https://www.youtube.com/watch?v=I46cXCkiEoA
 Contact your veterinarian if your pet's thunderstorm fears are excessive or prolonged, as there may be an underlying medical problem contributing to their fear and anxiety.  Also, sometimes your pet may need a prescription sedative to cope.
For more information contact us or check out www.bowbottomvet.com