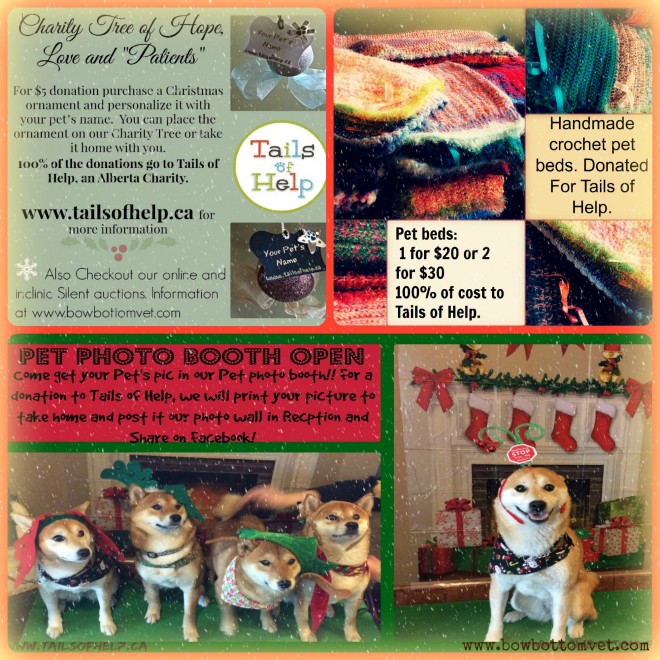 It is that time of year again! Christmas is just around the corner and the time to give is now. At Bow Bottom Veterinary Hospital, we are happy to help fund-raise for Tails of Help again as last year we reached a goal of almost $1300!! We are hoping to push that goal for 2015!
Here is how you can help:
1) Our 2015 Our Charity Tree of Hope, Love, and "Patients" is up and ready for ornaments!
For a donation of $5 you can personalize an ornament for your pet. You may take the ornament home with you for your tree, give it as a gift or place it on our 'Tree of Hope, Love and Patients.' Ornaments can be purchased at the front desk reception.
*2)NEW THIS YEAR!! We have a Pet Photo Booth!! It is now open and ready for your Fur kids! The booth is by donation for Tails of Help, in any amount you choose. We will print a copy for you to take home and post a copy on our Photo wall!
*3)Also NEW THIS YEAR you can find beautifully hand-made crocheted blankets. You may purchase 1 for $20 or 2 for $30.
4) Silent Auction will be running again this year. We are currently in the process of collecting items for our baskets and we will announce when the auction is open.
Tails of Help is a wonderful charity, they help to fund veterinary care for those who are low income or need a helping hand. For more information visit 

www.tailsofhelp.ca