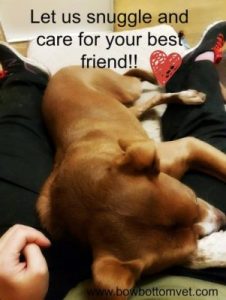 Day Care services are offered 7 days a week. Let us love, play and walk your pets while you are working hard.  Our Day Care model offers a controlled environment, where pets have both playtime and quiet time.  Dogs are tested together by our trained staff, prior to playtime sessions.  Not all dogs are compatible and we don't want your dog hurt or bullied while he or she is in our care.  This style of Day Care has less risk of injury to your dog, as well as controlling disease outbreaks.
Ease your concerns about leaving your pet behind while you're away: Let our staff take care of him or her. We can accommodate any special care or needs your dog or cat might have. Just let us know when you make the reservation.
We provide amenities such as clean bedding and food and water bowls, but feel free to bring your own if you'd prefer. You can also bring toys and other personal items that are washable. We will administer any needed medication and follow your specified feeding regimen. (Alternately, we can provide food and treats for no extra charge, although eating their own food tends to agree better with most boarded pets.) In addition, we can provide grooming services before you pick up your pet.
Veterinary technicians regularly check on the pets, and our kennel staff monitor the boarding area. You have the added benefit of knowing that our clinician will promptly begin treatment if your pet gets sick during his or her stay.
To keep all our patients as healthy as possible, we require pets that are boarding with us to have current rabies and distemper vaccinations, along with other species-specific vaccinations. We also require that most vaccinations be given at least 2 weeks before boarding. Please call us for more information.
Schedule your boarding reservation today! (403) 278-1984 For a tour of our boarding facilities, drop by anytime.