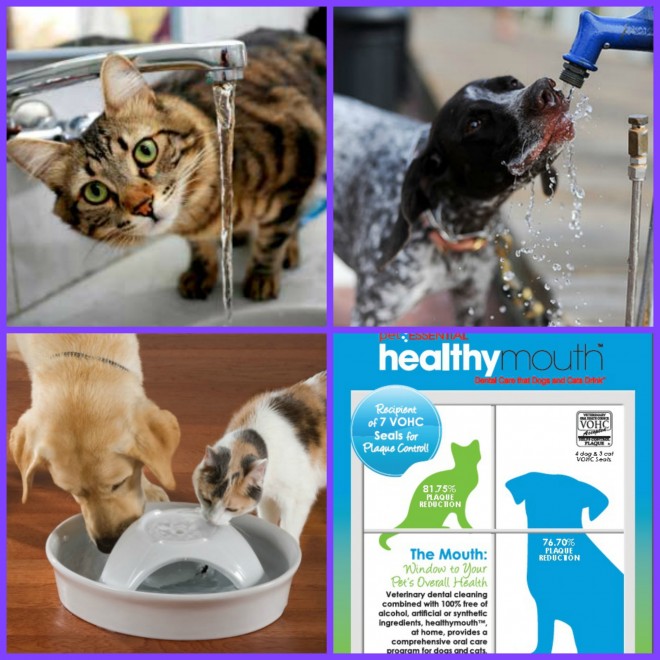 ENCOURAGING YOUR CAT OR DOG TO DRINK WATER
Feed Canned Food:  Canned food has a high water content and most dogs and cats love the taste.  It can be heated to enhance flavor for finicky eaters.  Water can be added to the canned food.
Provide fresh water every day.  Some pets are sensitive to the temperature and taste of water.
Water bowls should be filled to the brim at all times.  Cats especially do not like getting their whiskers wet. Some like very shallow bowls.
Some pets do not like the taste of certain types of water.  To alter the taste, try:

refrigerating tap water
try filtered water
offer bottled water
offer distilled water

Add a drop or two of tuna juice from canned tuna (packed in water).  Always keep a separate bowl of fresh water as well.
Add a teaspoon of Whiskas Cat Milk (lactose-free milk), beef broth or chicken broth to each bowl of water.
Add ice cubes to the water bowl.  These can even be flavored with tuna juice or broth before freezing.
Water fountains for pets can be attractive to them because they provided oxygenated, free flowing water.
9.  Turn the tap on several times throughout the day to see if they will drink.
10. Dogs are omnivores, so offering safe fruit and vegetables such as carrots, apples, watermelon, honeydew melon, cantaloupe, green beans, and pumpkin to your dog is a great way of increasing moisture in their diet.  Vegetables and fruits are high in water content.  Cats cannot tolerate vegetables or fruits in large quantities as they are carnivores.
 Keep food and water bowls away from the litter box area.
 Keep the water bowls clean.  Stainless steel or ceramic dishes are the easiest to keep clean and odor free.
 Alter the size of the water bowl– offer water in a plate, a saucer, a clear glass bowl, etc.
 Adding in the dental health improvement additive called "HealthyMouth" to the pet's drinking water at a dose of 5mL to 1 litre of drinking water also helps encourage pets to drink more water because it improves the flavor of the water. We carry this product here at Bow Bottom Veterinary Hospital for cats and dogs.
For more information please feel free to contact us at
403-278-1984 or visit our website at
www.bowbottomvet.com