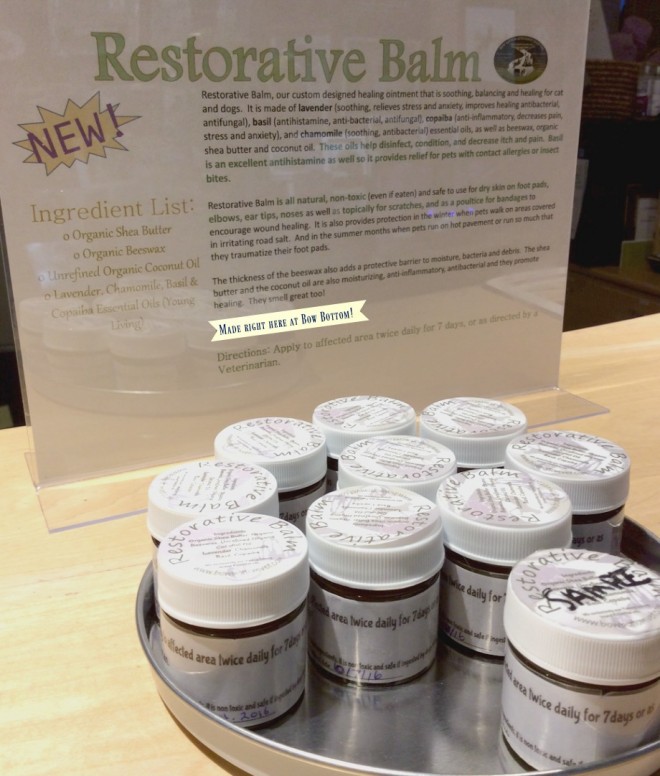 RESTORATIVE BALM


Dr Julie Schell  BSc(Hons), DVM, CVA, CVCHM, CVC
www.bowbottomvet.com
Does your dog or cat develop calluses on elbows, or dry skin on ear tips or foot pads?|
Does your pet ever chronically lick an area of their skin?
Have your pet ever had a cut or skin lesion that you just cannot or do not want to apply a steroid-based cream?
Restorative Balm, our custom designed healing ointment that is soothing, balancing and healing for cat and dogs.  It is made of lavender (soothing, relieves stress and anxiety, improves healing antibacterial, antifungal), basil (antihistamine, anti-bacterial, antifungal), copaiba (anti-inflammatory, decreases pain, stress and anxiety), and chamomile (soothing, antibacterial) essential oils, as well as beeswax, organic shea butter and coconut oil.  These oils help disinfect, condition, and decrease itch and pain.  Basil is an excellent antihistamine as well so it provides relief for pets with contact allergies or insect bites.
Restorative Balm is all natural, non-toxic (even if eaten) and safe to use for dry skin on foot pads, elbows, ear tips, noses as well as topically for scratches, and as a poultice for bandages to encourage wound healing.  It is also provides protection in the winter when pets walk on areas covered in irritating road salt.  And in the summer months when pets run on hot pavement or run so much that they traumatize their foot pads.
The thickness of the beeswax also adds a protective barrier to moisture, bacteria and debris.  The shea butter and the coconut oil are also moisturizing, anti-inflammatory, antibacterial and they promote healing.  They smell great too!
Come on in to check out our new Restorative Balm! We've got sample jars located in each examination room and at reception so feel free to try it out!